Driving Lessons Leeds
BB Driving School are your 5* choice for driving lessons in Morley, Leeds, Wakefield and all surrounding areas.....
5 Reasons to choose BB Driving School
Highest pass rate in your area, proven by our 1st time pass success photos and reviews lower down this page.
Over 100 5 star reviews on Google.
Only use highest grade "A" DVSA fully qualified driving instructors.
Patient, professional, punctual structured lessons using Pocket instructor workbooks.
FREE theory test training with Theory Test Pro.
If you are wanting to start driving lessons or wanting to change instructors, can any other school match these points?
YOU CAN TRUST BB DRIVING SCHOOL TO GET YOU TO PASS YOUR TEST.
How to choose a driving instructor in Leeds/Wakefield
1. By far the best way to choose a driving instructor is word of mouth. If any of your friends or family has recently passed their test, ask them what their experience was like and make a choice from there. Most of BB Driving School pupils have been recommended.

2. Look online for reviews. Nowadays everyone can read reviews online, use this information to choose the best instructor for you. BB Driving School have fantastic reviews on Google and Facebook.
3. High grade instructors, all instructors are tested every 4 years to maintain their standard. Some driving schools use trainee instructors who have not passed their standards test with the DVSA, you can tell this because they have a pink badge in the car window rather than the green of fully qualified. BB Driving School is an independent driving school run by Justin Holmes who has achieved the highest grade achievable for the past 25 years, 1995-2015 grade 6, 2015-present grade A.

4. Pass rates, obviously you will want a driving school with a high pass rate. Unfortunately there is no way to know the rates and any other instructor could say what they want. BB Driving School are confident that our reviews speak for themselves 90+% 1st time pass.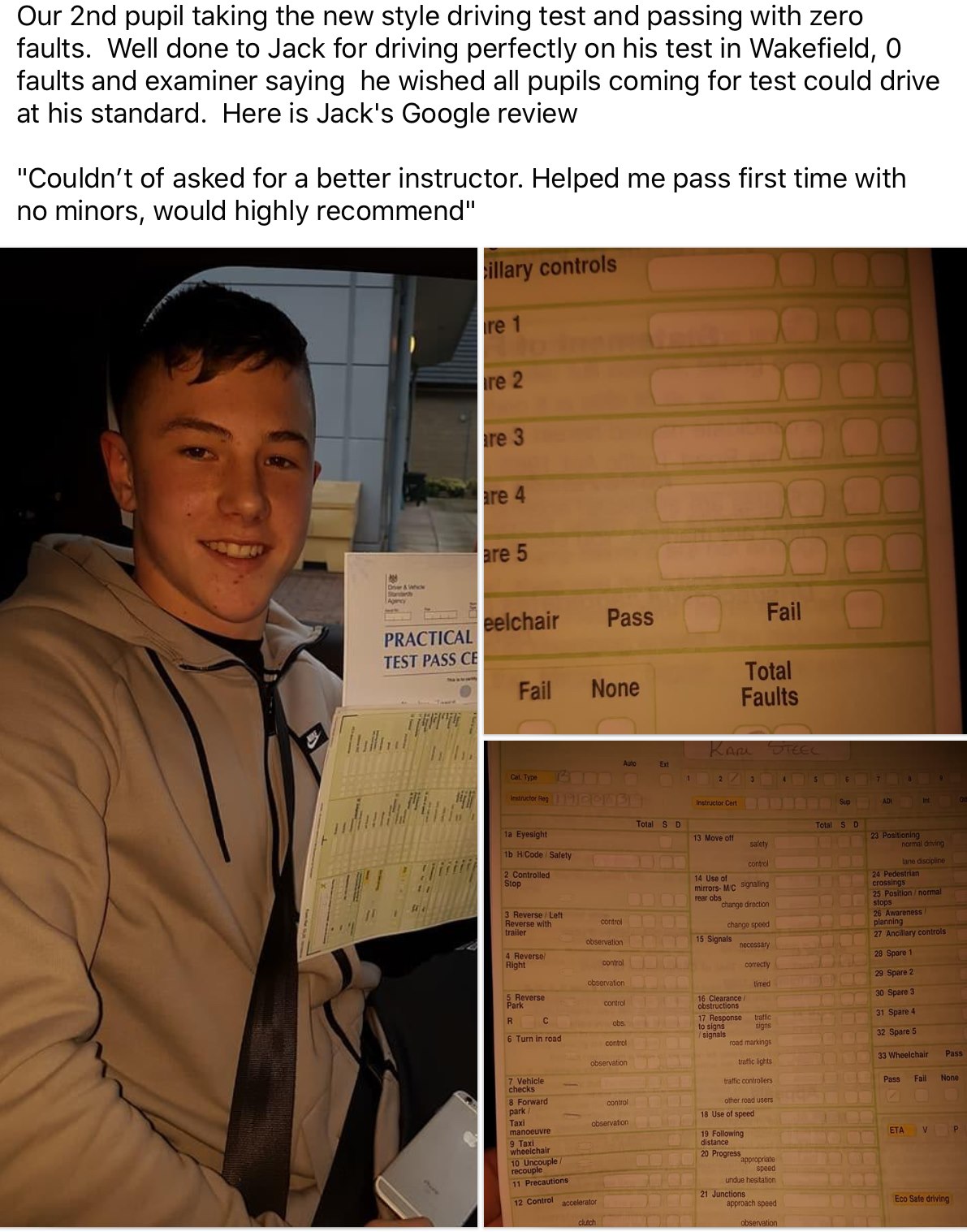 ---
5. Independent instructors work hard to build up their reputation by normally offering a high standard of tuition and going the extra mile, if they don't get or maintain pupils they would go out of business or go work for a franchise company.
If you choose a big franchise company most of their business is generated through big advertising campaigns and discounts. Your instructor could be anyone, they have that many, often these instructors have tried to work independent but were not good enough, as we said before some big companies use trainee instructors but charge you the same even though they've not qualified. Choosing a local instructor would benefit you and your instructor, no instructor wants a lot of travelling time between lessons for losing money, often franchises are sent all around the town as they have to share the work out.

6. Cheap or quality lessons. It is said often, you get what you pay for. The prices of lessons vary from school to school and some companies offer big discounts on block lessons to entice you to buy. Why do you think these instructors are offering so low prices???? Normally because they can't generate work through their past efforts. Do you want cheap or quality, BB Driving School definitely offer quality over price.
7. Structured lessons using client centred learning, try to keep track of what you are learning and where you are at so you are clear when you will be ready for your test, when nearing test always try a few mock tests to get you up to the required standard.
BB Driving School use workbooks to make sure you've covered everything making you more confident when it comes to your driving test. We have also got your theory test covered as all BB pupils get free access to the Theory Test Pro App.

8. Choose the right car. At BB Driving School we use the stylish Citroen C3. If you choose a school with a big car you will make the manoeuvres on your test harder than they need to be, the C3 is not too big and has a rear camera to make reversing easier. If you choose a school with a small car, often they lack power which cause you problems when trying to make progress on fast roads, the C3 has a 1.5l engine and packs a punch.
Learn to drive in a stylish, modern dual controlled car.
Pass your driving test first time....
9. Choose the correct way to learn. Whether you are a complete beginner, had previous experience, want motorway lessons, pass plus or have passed and want to recap to build confidence with refresher lessons we can cater for them all. Choose an instructor who is flexible to your needs. With BB Driving School you can do your lessons in 1hr, 1.5hr or 2hr blocks. If you want to pass quicker we can offer semi intensive courses (crash courses) if we have availability. If possible try to choose an instructor with experience of the roads you are going to be using on test. Your BB instructor has a vast knowledge of all test routes.

10. How many lessons to pass your driving test. The number of lessons differs from pupil to pupil, the DVSA recommends 40hrs with an instructor and 20 private practise to give you the best chance to pass your driving test 1st time. At BB our aim is to turn you into a confident, aware and knowledgeable driver enabling you to pass 1st time in the shortest period possible.
Your BB driving instructor: Justin Holmes
Patient, professional, punctual. Most of our pupils are generated from word of mouth or by 5* reviews on Google and Facebook. BB driving instructors are always the highest grade with the best 1st time pass rates in your area. You will receive quality structured lessons which are flexible to you in a car which is easy to drive and free access to Theory Test Pro so you have the best chance of passing the driving test 1st time.

Who are you going to trust with your hard earned money to pass your test????
Armley, Batley, Beckett Park, Beeston, Belle Isle, Birstall, Bramley, Burley, Burmantofts, Calverley, Chapel Allerton, Chapeltown,Churwell, Cottingley, Cross Green, East Ardsley, Farnley, Farsley, Gipton, Gledhow, Harehills, Hawksworth, Headingley, Holbeck, Hunslet, Hyde Park, Kirkstall, Little London, Lofthouse, Meanwood, Middleton, Morley, Oakwood, Osmondthorpe, Pudsey, Richmond Hill, Robin Hood, Rodley, Rothwell, Roundhay, Scott Hall, Sheepscar, Staincliffe, Stanley, Stanningley, Stourton, Swinnow, Tingley, West Ardsley, Woodhouse, Wortley
---